Who is my best friend in the kitchen today? Could it be...
my coffee maker? No m'am.
How about......
My mixer? Nuh Uh.
Or......
My grimy I Phone? Not today!
Oh COME ON, it's gotta be one of these then....
(Just so you know, this is me taking an embroidered heart that I had JUST FINISHED away from my sometimes best friend, Wee Willie Willard. Doesn't he look pissed??? Bad dog!)
Wrong, Wrong, Wrong--especially the last one--she's my MEAN boss! Hah! My bestest bestest friend this week is none other than:




(Actually, this one's not mine--I stole it from Google)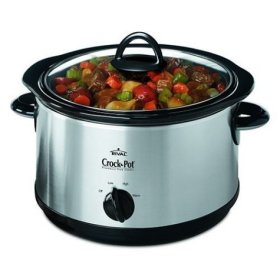 THAT'S RIGHT, A CROCK POT! I've just had one of those weeks--running around like a Tazmanian Devil with my head cut off. I just love whipping this bad boy out early in the morning, throwing a few ingredients into it and not thinking about dinner again until it's time to eat. Big Daddy and I were also feeling the need to, shall we say,
purify
ourselves after a rather gluttonous, wine-soaked weekend. The kind of weekend where you end up leg-wrestling your town's doctor on your neighbor's living room floor. I kid you not. Annnnnyyyywaaaayyys.....when I really feel like being "good", I love to whip up a big batch of my Crock Pot Black Bean Soup--so delicious, warming AND nutritious, you gotta love it. This week, I had some leftover Andouille sausage in the freezer (from some gumbo I made a few weeks back; I SO wanna be southern!), so I added that to the soup. You can add whatever you like to this, like chicken, sausage or beef. Or, you can keep it vegetarian. The first thing you'll need to do, if you'd like to try this fabulous soup, is to raid your pantry for canned staples, like beans, corn and tomatoes:
Then you'll want to drain your beans and corn (always, always rinse these super well--they are loaded with sodium!), but NOT the tomatoes--you'll need their juice for the soup:
Then slice up your green onions (kitchen scissors work so well) and your sausage, if you're using it:
And don't forget the spices--chili powder, cumin and of course freshly minced garlic:
Then, you just throw everything together in your crock pot and give it a good stir. Look at these COLORS--how can something so colorful NOT be good for you? And this isn't even cooked yet!:
Set your crock pot on "low" and cook for 8 hours or so. This is the end result (in my friend Nancy Venetz's handmade bowls--she made these just for me!), with a dollop of sour cream:
Sooo very good on a cold winter evening! Here's the recipe--don't forget, recipes are just guidelines--you can tailor them to please you and your family, any way you like:
LESLIE'S CROCK POT BLACK BEAN SOUP
Serves 6-8
2 15oz. cans black beans, drained and rinsed
2 141/2 oz. cans diced tomatoes, undrained
1 11oz. can whole kernel corn, drained
1 bunch green onions, sliced
2-3 tblsp. chili powder
1 tsp. ground cumin
2 cloves garlic, minced
diced cooked meat of your choice, optional
Combine all ingredients in a slow cooker. Cover and cook on "low" for 8 hours, or on "high" for 5 hours.
TOP 3 THINGS I AM GRATEFUL FOR TODAY:
1.I am grateful that my house is clean, at least for the moment!
2. I am grateful that our daughter, once again, pulled straight A's at school. I don't know where she gets it. And I need to mention that the school she attends, UC Berkeley, is SO rigorous that straight A's don't even get you onto the Dean's list--for that I thing you need a 4.25! Terrifying.
3. I am grateful that Big Daddy and I are getting away for a few days--photos to come next week!